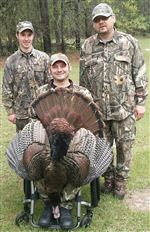 Sylvania Township native and Southview graduate Tony Nickolite, a U.S. Navy veteran who was paralyzed in an automobile accident in 2010, took part in a special wild turkey hunt on the grounds of the Toledo Airport. Guide Jim Beasley, left, and Tony's dad Ed Nickolite joined him for the hunt, one of many such hunting and fishing opportunities in the area that involve veterans.
GIRTON, Ohio — If you have ever spent the day's first hours sitting in a tree stand about 15 feet above the floor of a woods, surrounded by only a comfortable kind of lonely and the occasional cushioned plop of an acorn descending to the ground, then you know how your mind can waltz away to far off places.
Removed from the din and chaos of the world we live in, many a bow hunter has enjoyed that therapeutic journey, where the sudden calm and quiet throws open the doors to your subconscious.
You are deer hunting but, in the absence of that wily Odocoileus virginianus wandering into your field of vision, the void is filled with contemplation.
With Veterans Day just a few squares down the line on the calendar, it was easy to conjure up images of my father and his four brothers all heading off to serve in World War II, about the same time my mother and her two brothers also were leaving home to join in the defense of freedom, democracy, and the American way of life.
I wondered about what kind of spirit, commitment, and sense of patriotism it took for all of them to make the same choice at about the same time.
And, to a person, none of them ever bragged about their service or talked about it as if it was something out of the ordinary.
These were regular people, doing something exceedingly exceptional, and considering it just part of their civic duty.
They occupy an elite estate in the priority files in my mind. Living or deceased, our military veterans and active service members deserve no less. Seated in this humble metal perch strapped to an oak tree, and painfully aware there are many places on the planet where such recreational endeavors are not an option, I shrink in their shadows.
On Monday's recognition of Veterans Day — and on the other 364 that fill our year — I bristle with pride that there are bloodlines and DNA that connect me to those people.
And I wince at the lack of distinction their service seems to draw from so many who have benefited endlessly from the sacrifices made by our greatest generation, and those later cut from the same gilded cloth.
Since the official Department of Defense guidelines describe Veterans Day as a time to honor "all of those who have served the country in war or peace — dead or alive" this is a time to wield the broad laudatory brush.
I also am grateful to have the privilege to occasionally be in the company of a very colorful, entertaining, and somewhat quirky detachment of veterans and active service members.
That group includes, but is not limited to, my youngest son's godfather Ralph, political pundit Spike, Devils Lake impresario John Z., would-be movie mogul Larry, favorite cousin-in-law Don, uber-talented eldest son J.C., legendary coach Jim, plastics baron Scott, the steady patriarch Grandpa Gus, and exceptionally welcoming cousin Mike.
To be around them puts the oxygen back in life, and it also reinforces my faith in our country and the strength of our collective soul when I see how many programs are in place to honor our veterans, help them, and salute these humble individuals.
The Healing of Our Veterans Equine Service, or HOOVES, is an area outreach effort to assist vets in dealing with the trauma that often comes home with them after serving abroad. This unique and innovative approach using equine therapy has facilitated many recoveries and produced some amazing results.
Then there is the ongoing work done by the Toledo Buffalo Soldiers Motorcycle Club and its indefatigable leader, Earl D. Mack, Jr., a veteran who served as a combat medic in Vietnam. He salved their wounds on the battlefield, and now he marshals the troops to serve his fellow vets here at home.
In an effort that not only cares for vets but also safeguards their physical well-being and dignity, the local Veterans Matter group focuses its efforts on one of the most needed elements for some former service members — housing.
The Fulton County Pheasants Forever chapter is holding a special hunt for veterans Monday, complete with breakfast, a guided hunt, and lunch. The Hunters Helping Heroes group took 30 Ohio veterans on Lake Erie for walleye fishing, and there were more than a dozen active duty Marines who got to take part in that outing.
Continuing with the very attractive Lake Erie theme, the Walleyes for Wounded Heroes organization stages a four-day extravaganza in Marblehead each year and, besides hosting many veterans of the United States Armed Forces, this group folds in law enforcement officers, firefighters, and emergency medical responders who have been injured in the line of duty.
The Catawba Island Club and owner Jim Stouffer, along with past commodore Bob Block, deserve a salute for the way they honor our veterans, active service, and deceased members of the military during their Blessing of the Fleet ceremony each May.
All of the great work that takes place here and around the country helps us weather the ugliest of moments, such as when veterans are mistreated, ignored, disrespected, or made the target of tasteless jokes.
Last weekend, the formerly funny Saturday Night Live continued its express run into the sewer down the Q-train subway line by attempting to make fun of a military vet who lost an eye serving in Afghanistan and now wears an patch to cover his wound.
Cast member Pete Davidson showed a photo of former Navy SEAL Dan Crenshaw, a congressional candidate in Texas, and referred to this decorated veteran as looking like "a hitman in a porno movie" before adding Crenshaw "lost his eye in war, or whatever. Whatever."
Sen. Tammy Duckworth of Illinois, who lost both of her legs serving in Iraq, called the SNL bit "absolutely appalling."
If mocking a veteran over the wounds they received defending our nation, and doing so just a week before Veterans Day, is what NBC and Davidson consider funny, I have a few suggestions.
Take a walk through the Walter Reed National Military Medical Center and count the vets with missing limbs.
Visit the nearest veterans home and listen to a few stories of their service.
Attend the funeral of a military member and look into the eyes of the vets who are there to salute their fallen comrade.
Then step back and accept what that lump in your throat is telling you — these individuals have faced dangers and horrors that you can't even imagine. They deserve much more than simply our respect.
Guidelines: Please keep your comments smart and civil. Don't attack other readers personally, and keep your language decent. Comments that violate these standards, or our privacy statement or visitor's agreement, are subject to being removed and commenters are subject to being banned. To post comments, you must be a registered user on toledoblade.com. To find out more, please visit the FAQ.