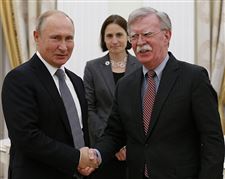 Russian President Vladimir Putin, left, and U.S. National security adviser John Bolton shakes hands during their meeting in the Kremlin in Moscow, Russia, on Tuesday.
ASSOCIATED PRESS Enlarge
The White House and the Kremlin have engaged in nuclear brinkmanship, putting political expediency before global security.
It came to a head this month when the U.S. ambassador to NATO effectively threatened Russia with preemptive war, citing an alleged deployment of Russian nuclear-capable cruise missiles near the NATO alliance's eastern border in violation of a bilateral arms control treaty.
The 1987 Intermediate-Range Nuclear Forces Treaty between the United States and the former Soviet Union bans them from possessing, testing, and deploying intermediate or short-range ground-launched cruise and ballistic missiles. With the striking range between about 300 and 3,400 miles, such weapons were created for use in Europe.
"Getting them to withdraw would be our choice, of course," Ambassador Kay Bailey Hutchison told reporters at a NATO meeting in Brussels. "But ... the question was what would you do if this continues to a point where we know that they are capable of delivering. And at that point we would be then looking at a capability to take out a missile that could hit any of our countries in Europe and hit America in Alaska."
The alleged missile deployment is hard to prove, because launchers for missiles of that kind can be easily moved at a short notice. It is not a considerable threat to the present status quo in Europe. And it should have been addressed by specialists in a working-group format before making public accusations.
Though U.S. officials tried to walk that statement back later, global security experts on both sides of the Atlantic got alarmed while the Kremlin played it cool, with Russian President Vladimir Putin's spokesman issuing a statement that it "prefers not to pay extra attention to statements by ambassadors while we have too many uncertainties with the messages on the higher level."
That was a not too subtle hint at President Trump whose consistent pro-Putin statements at times contrast with those by members of his administration.
There was another reason for Mr. Putin to play cool.
The Hutchison pronouncement came straight out of his own playbook.
In 2015, Mikhail Vanin, the Russian ambassador to Denmark, told the Danish newspaper Morgenavisen Jyllands-Posten that he thought the Danes did not "fully understand the consequences" if Denmark joined the U.S.-led missile defense shield. "If that happens, Danish warships become targets for Russian nuclear missiles," he said.
It has been the Russian claim that the nuclear missiles shield, the elements of which the United States has deployed in Romania, is in violation of the very same nuclear weapons treaty.
Signed at the outset of the Soviet Union's economic and political meltdown, the treaty eliminated and banned land-based missiles in Europe. By signing the treaty, Russia effectively ceded its strategic military advantage in Europe to the United States, which dominates in sea and air-based missiles.
Russia, however, is interested in keeping the treaty alive.
That's because Russia cannot afford another arms race and because the Kremlin's paranoid fear of a regime-change feeds into its belief that the United States might strike the Kremlin preemptively if given a chance -– for example, with hard-to-detect cruise missiles, say, from, Romania — once the nuclear weapons treaty that currently bans them is no more.
Judging by the Russian television and newspaper commentaries, the Kremlin believes that the United States could use its missile defense shield base in Romania or even NATO bases in the Baltics to deploy preemptive-strike missiles.
That's probably why Mr. Putin's cool public posture on the issue did not last.
A couple of weeks later the Russian autocrat – who is facing an economic downturn and public frustration and protests following the recently announced increase of retirement age – attempted to switch the public attention when he made the following statement:
"Any aggressor should know that retribution will be inevitable and he will be destroyed. And since we will be the victims of this aggression, we will be going to heaven as martyrs. They will simply drop dead, won't even have time to repent," Mr. Putin said at an annual speaking event in Sochi, according to Russia's RT media outlet.
Scrapping the Intermediate-Range Nuclear Forces Treaty, which has been a cornerstone of global security for 31 years, should be the last thing the United States wants.
President Trump, however, announced recently the United States would withdraw from the treaty and dispatched John Bolton, his national security adviser, last week to Moscow to personally deliver the news to Mr. Putin. Messrs. Bolton and Putin were photographed smiling and shaking hands.
Mr. Putin said afterward that Russia will deliver a "mirror" response "quickly and effectively" should the United States deploy any treaty-banned missiles in Europe.
Whatever Russia's immediate response may be, its financial woes prevent it from any major nuclear rearmament. However, the scrapping of the treaty will make Russia less transparent and less predictable, adding to the risk of an armed — possibly nuclear — conflict.
Mike Sigov is a former Russian journalist in Moscow is a U.S. citizen and a staff writer at The Blade.
Guidelines: Please keep your comments smart and civil. Don't attack other readers personally, and keep your language decent. Comments that violate these standards, or our privacy statement or visitor's agreement, are subject to being removed and commenters are subject to being banned. To post comments, you must be a registered user on toledoblade.com. To find out more, please visit the FAQ.